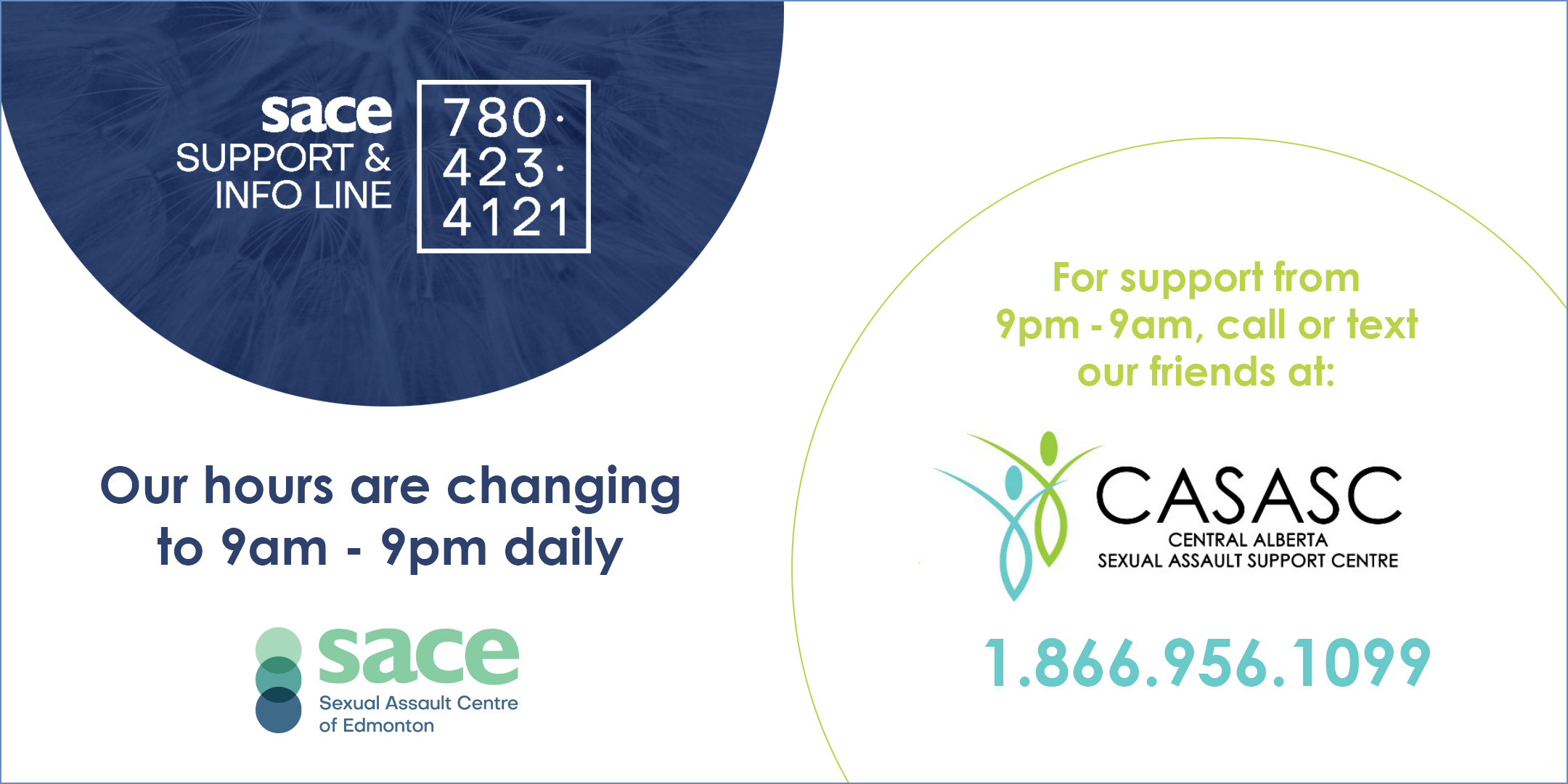 We at SACE would like to share that starting September 12th, 2019, SACE Support and Information Line Hours are changing. We will no longer offer support and information line services overnight between 9 pm and 9 am. We will continue to provide our specialized, trauma-centred support on both the SACE line and Alberta's One Line for Sexual Violence between 9 am and 9 pm daily.
For anyone needing support during the hours that we are closed, our friends at the Central Alberta Sexual Assault Centre are available for phone and text support 24 hours a day at 1.866.956.1099.
This decision to reduce our hours is not a decision we made lightly. The support line has been the cornerstone of our agency since we first opened in 1975, and we acknowledge the impact this will have for many of the people we serve. With the increased demand for our services and our work to support people across central and northern Alberta through the provincial One Line phone, text, and chat line, capacity has become an issue.
Restructuring our support line hours is also a temporary measure. We're looking for additional resources to support the line, but over the next few months we hope to hear from our community on how this impacts you so that we can come up with a sustainable long-term solution that allows us to continue to provide support where, how, and when people really need it.
We welcome any and all feedback on how this has impacted you and any feelings such as frustration or anxiety that you might have, as well as your ideas on how we can do better. We welcome you to call our office at 780.423.4102 during office hours Monday – Thursday, or email Rachel, our Volunteer & Support Lines Manager, at rachelg@sace.ca. We cannot overstate how much we value and respect the feedback of our community on this. This change is regrettable, but we hope it can also present an opportunity for a needed and conscious dialogue about what support at night needs to look like in 2020.
– The SACE team