Psychoeducation provides people with mental health concerns and conditions, including people who have experienced trauma, with information about the causes, symptoms, and treatments for what they are experiencing. If you engage in psychoeducation as a learner, you can find out what to expect, what you can do, and how to improve your condition.
Psychoeducation will also show you that others have walked this path before you. It will help you understand what people who have experienced sexual violence usually experience, and what kind of tools and supports are most effective.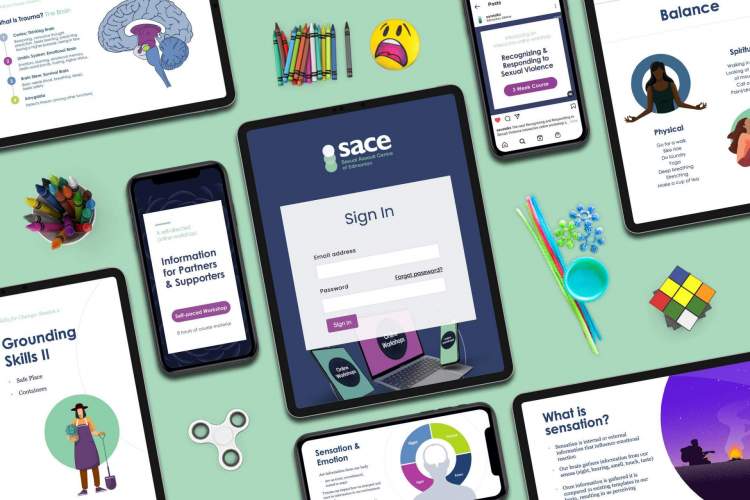 Anyone who has experienced sexual violence can benefit from learning more about the issue. For example, psychoeducation can help you learn about:
Family members and loved ones can also benefit from psychoeducation. They can learn to understand signs of trauma, how to interact and deal with situations, and how to be a more loving, understanding, and helpful parent, partner, friend, sibling, etc.
Today psychoeducation is considered an important avenue of treatment to support mental health, and a recognized part of the therapeutic process.
This type of education is not solely about passing along information: it is also about learning skills for coping with impacts, and promoting emotional regulation and healing.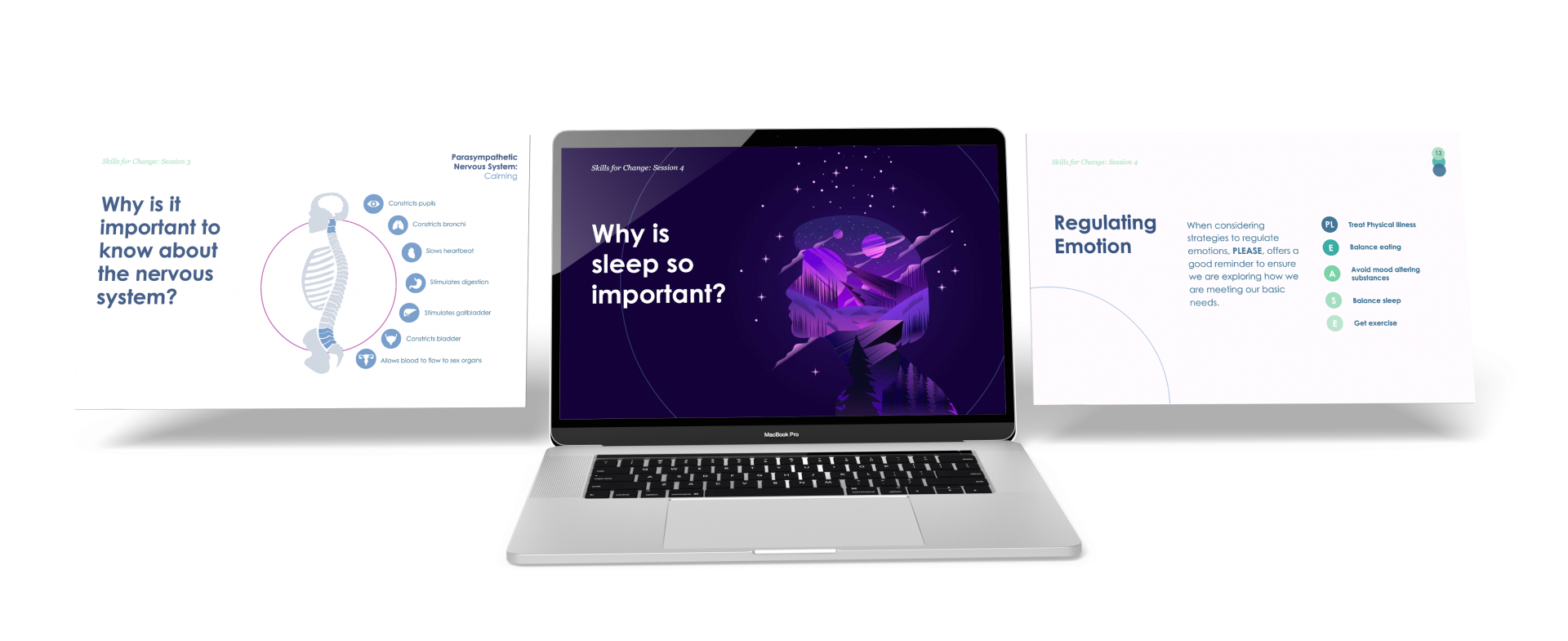 Skills for Change
Runs once per week for 4 weeks
Who it's for:
Adult individuals of any gender who are on the waitlist to access counselling services at SACE
Topics for the 4 sessions are:
Coping and Self-Compassion
The Stress Response System (including how trauma impacts it)
This group is available in an online format, as well as in-person when it is safe to do so. For more information, and to get on the waitlist for the next available group, click the phone button below.
Skills for Change is a closed psychoeducation group requiring registration. It is offered to adult individuals of any gender who are on the waitlist for counselling services at SACE, and may be accessed without having worked with a counsellor in the past.
Individuals on the waitlist for individual counselling have the choice if they would like to participate in this group, and choosing not to register does not disqualify someone from accessing individual counselling services. Similarly, participating in Skills for Change does not mean that an individual is required to continue on to individual counselling if their circumstances change and they are no longer interested in individual counselling.
If at any time you have questions about accessing services at SACE, or your circumstances change impacting your ability to access support, call and ask to speak to a client care specialist.
Participants are screened prior to accessing this group: clients presenting with psychosis, active and ongoing addiction, and/or significant suicidality are not recommended for this group, and instead the information from Skills for Change is offered in individual counselling.
Each week of this group builds on the skills and knowledge of the previous week. Content is focused on emotional regulation, education on the impacts of trauma on the brain, and how this can present behaviourally. Participants develop skills to manage their trauma symptoms and later, when they begin individual counselling, are equipped to more quickly move onto trauma processing work as they have developed their emotional regulation abilities.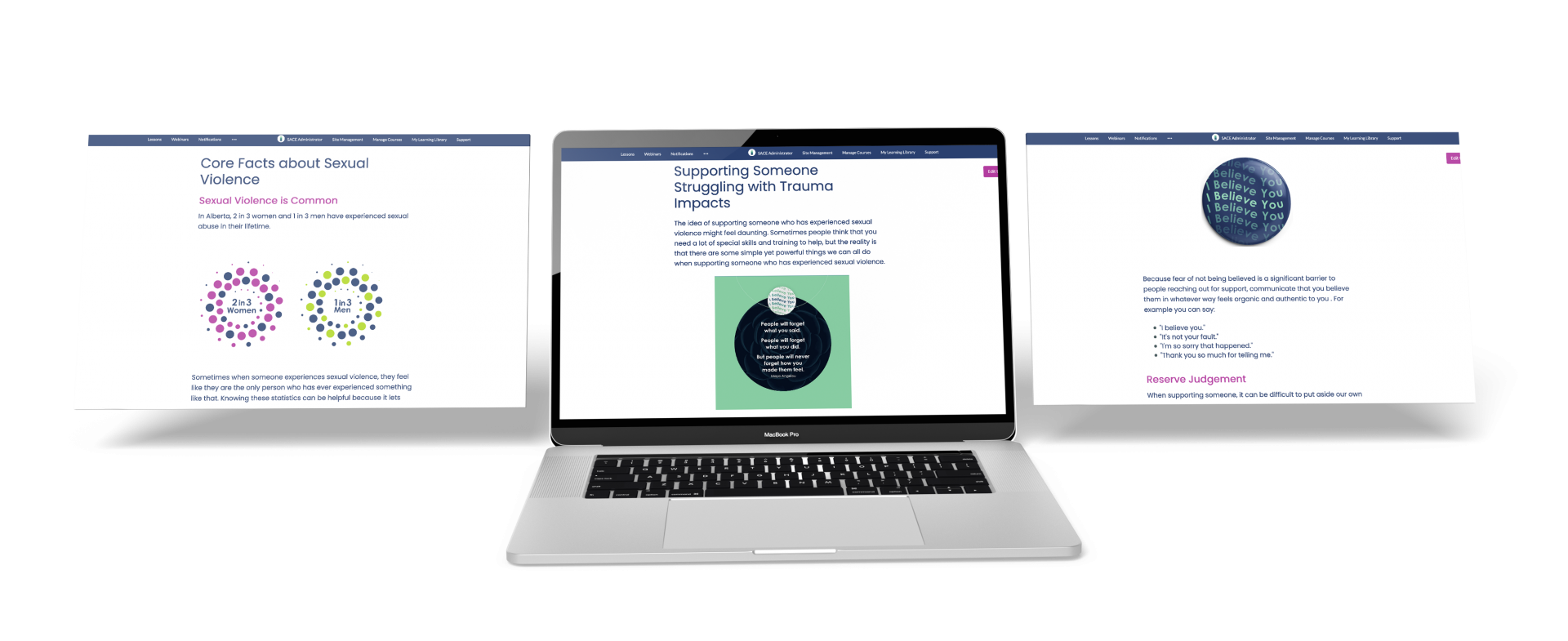 Information for Partners and Supporters 
Self-directed for 4 weeks
Who it's for:
Partners and supporters of adults who have experienced sexual violence
This self-paced online course is available for adults wanting to learn more about how to support loved ones in their life who have experienced sexual violence.
Course introduction and overview of SACE services
Sexual violence core facts and definitions
Over the course of a month, participants can expect to spend approximately 8 hours working through the course content independently, at a pace that feels right for them. A member of the SACE Public Education team will be available to answer any questions participants have as they engage with a mix of text, videos, web resources, and reflection questions throughout the course.