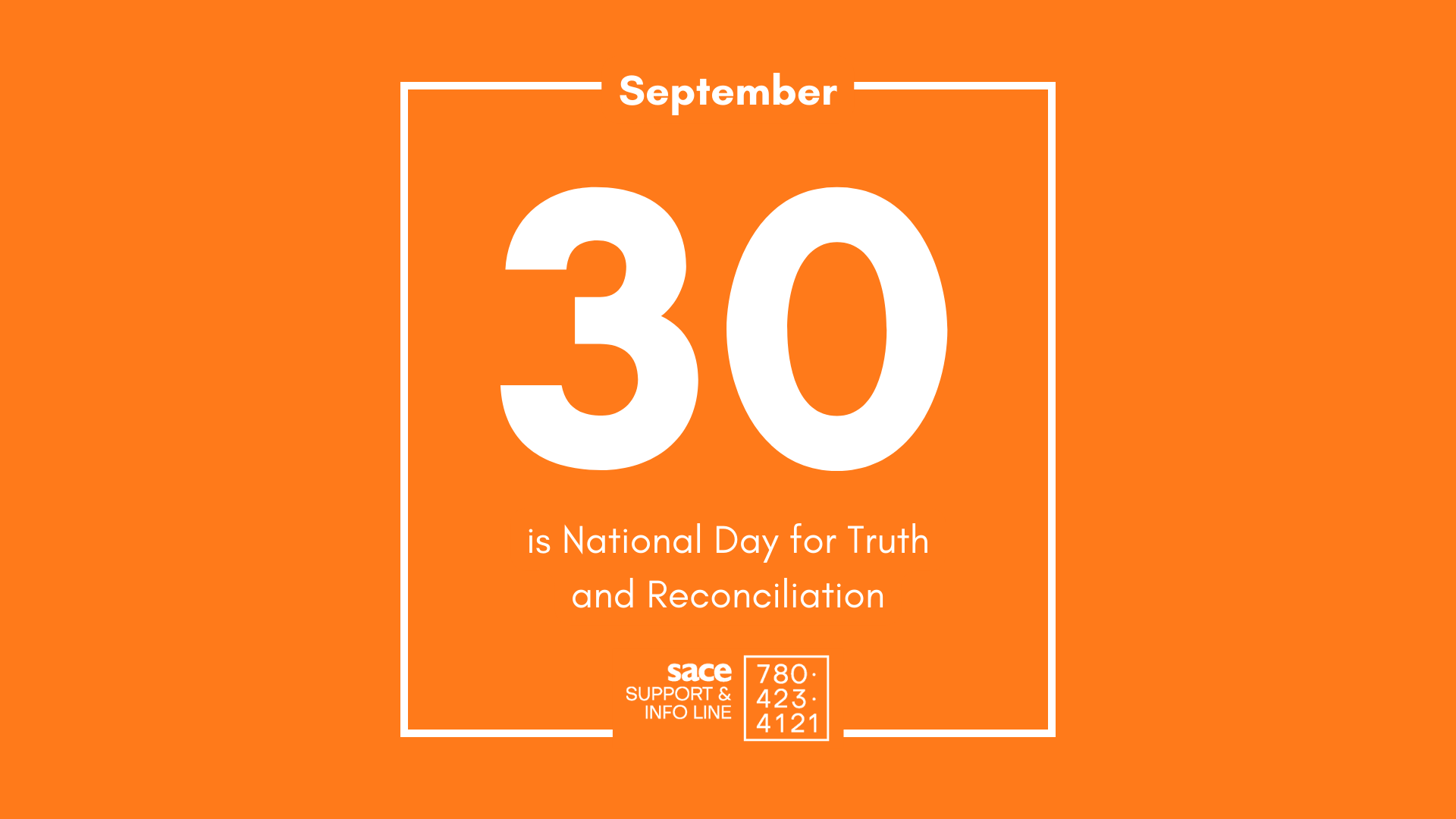 September 30 is National Day for Truth and Reconciliation and Orange Shirt Day.
This is the second year that this day has been observed as a federal statutory day in Canada to recognize truth and reconciliation as well as the legacy of the Indian Residential School System. Orange Shirt Day, however, began in 2013 as an Indigenous-led grassroots movement.
September 30 isn't just a day off work or school. As a non-Indigenous agency, SACE acknowledges the significance of this day, and commits to ongoing learning, unlearning, and bringing awareness to the impacts of colonialism, intergenerational trauma, and sexual violence.
We need to continue to listen to and learn from Indigenous Peoples' experiences and history. We all have a role to play in truth and reconciliation, and we can all do something.
Where to buy an orange shirt
If you haven't bought your orange shirt yet, here are a few Indigenous retailers and artists:
Bead work & Bannock at TIX on the Square
University of Alberta First Peoples' House
Indigenous Artist Market Collective (I.A.M Collective) is hosting etah ka mâcipayik kîkway ᐁᑕᐦ ᑲ ᒫᒋᐸᔨᐠ ᑮᑲᐧᕀ Where something begins on September 24 & 25, 2022 at the Edmonton Downtown Farmers Market.
Local Indigenous artists to support throughout the year
Indigenous Artist Market Collective (I.A.M Collective)
Resources
Learn more about National Day for Truth and Reconciliation at canada.ca/en/canadian-heritage/campaigns/national-day-truth-reconciliation.html.
National Student Memorial List: Remembering the Children Who Never Returned Home
If you are in crisis or need someone to talk to, 24-hour support is available through the National Indian Residential School Crisis Line at 1-866-925-4419.
The SACE Support & Info Line for people who have been impacted by sexual violence is also available from 9 am to 9 pm daily at 780.423.4121.
SACE would like to thank pipikwan pêhtâkwan for their knowledge and guidance that inspired this post.