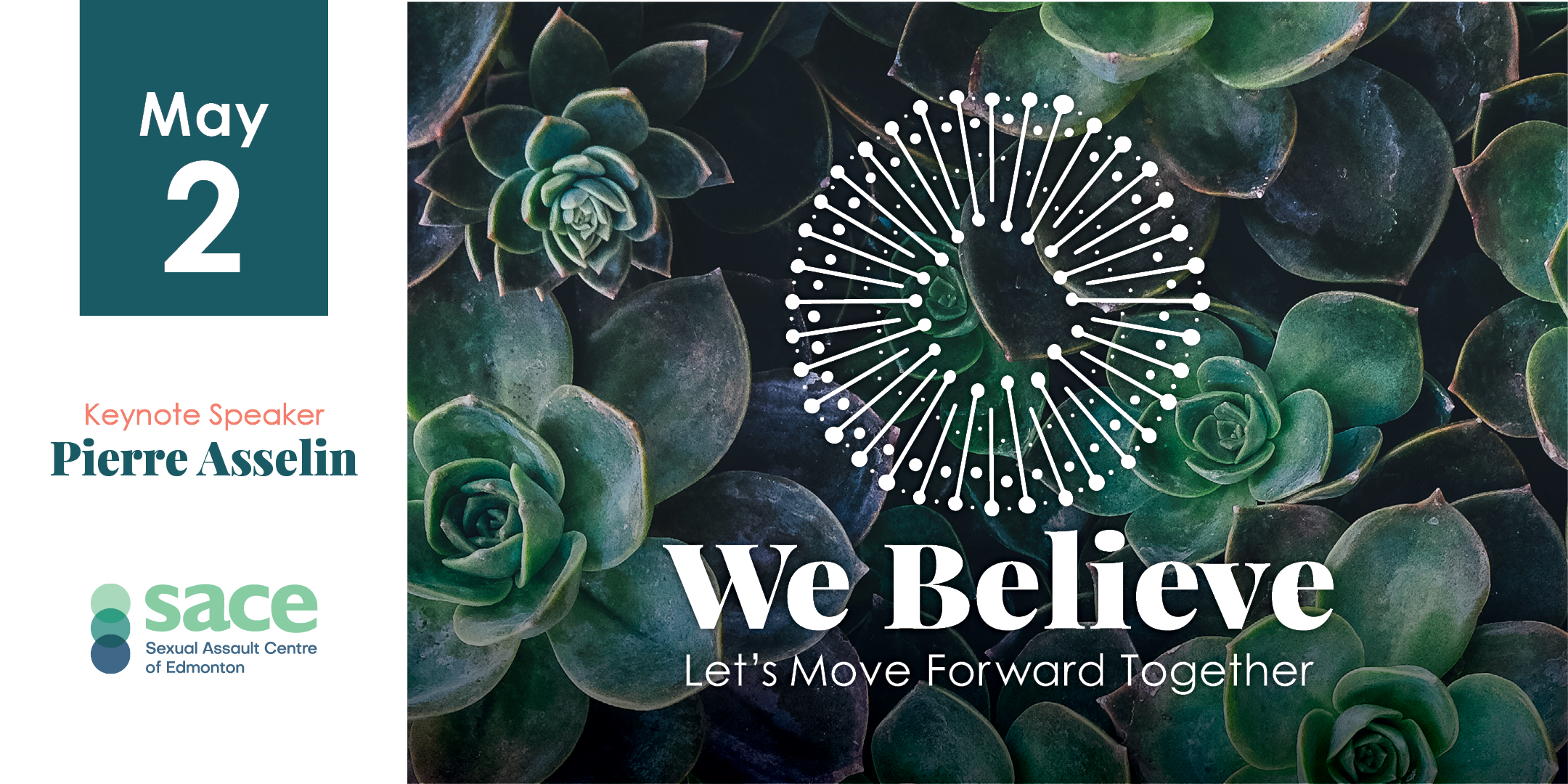 Tickets are now available for our annual fundraising gala We Believe: Let's Move Forward Together 2019, featuring Keynote Speaker Pierre Asselin, Emcee and Live Auctioneer Danny Hooper, and International Performance Poet Titilope Sonuga!
Pierre Asselin is an Edmonton lawyer who made headlines in recent years when he successfully fought to have a publication ban removed from his identity so he could speak out about his experiences of childhood sexual abuse. At We Believe: Let's Move Forward Together, Pierre will be drawing on his personal experiences as well as his pro bono work with those who have experienced sexual assault, to deliver a unique perspective on how we can work together to support survivors as they navigate the criminal justice system.
Danny Hooper knew at an early age that his passion was in the entertainment world. In the decades since, he has parlayed his unique personality and sense of humour into an award-winning career and thousands of on-stage performances as a recording artist, motivational speaker, comedic emcee, and celebrity benefit auctioneer.
Titilope Sonuga is a writer and performer who calls Lagos, Nigeria and Edmonton, Canada, home. The recipient of the Canadian Authors' Association Emerging Writer Award, and a 2015 Open Society (OSIWA) Foundation Resident Poet on Goree Island, off the coast of Senegal, she is a leading voice in local and international performance poetry communities who has travelled extensively as a poet, and facilitated poetry workshops across the world. She is the founder of Edmonton's Breath In Poetry Collective. Her collection, This is How We Disappear is forthcoming in April 2019.
Join us May 2, 2019 in Hall D of the Edmonton Convention Centre for an evening of fine dining, exceptional entertainment, inspiring stories and incredible raffle and auction prizes.
Other ways to support the We Believe gala:
Become an event sponsor or donate items to the auction (email info@sace.ca for details)
Contribute to the wine tree raffle prize by dropping off bottles of wine worth$20 at SACE (Suite 205, 14964-121A Ave, Edmonton) or making a donation online (please indicate in the message to SACE that you would like these funds allocated to the wine tree)
Purchase a donated ticket that will be gifted to someone who has experienced sexual violence
All funds raised from this event will go directly towards providing essential support for people and communities impacted by sexual violence. Let's move forward together!