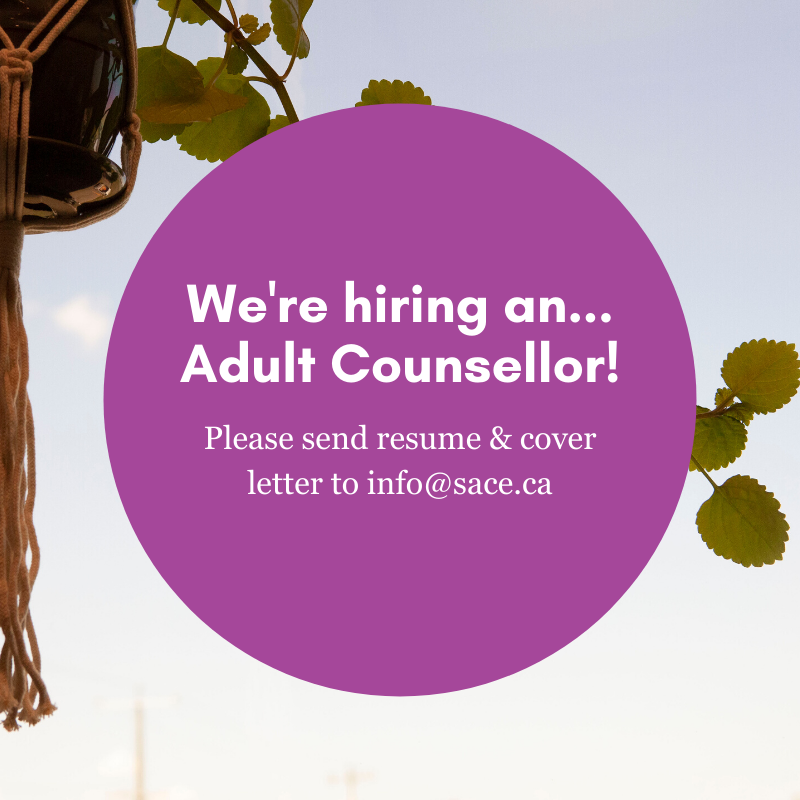 SACE is looking for an experienced counsellor to join our clinical team!
This is a full-time term position under the direct supervision of the Director of Clinical Services and the Director of Client Care Services. The Sexual Assault Centre of Edmonton (SACE) is a not-for-profit, charitable organization that supports children, youth, and adults who have experienced sexual abuse or assault, and educates the public about sexual violence.
All work at SACE will reflect the Mission Statement and beliefs of our agency. We offer a friendly and warm work environment and are looking for someone in this position to work weekly Monday – Thursday. Flexibility to work weekday evenings and weekends is a requirement.
Responsibilities include:
Provision of crisis intervention in the form of crisis calls, emergency appointments, and scheduled appointments, including back-up coverage for the SACE 24 Hour Support and Information Line as well as Alberta's One-Line for Sexual Violence;
Provision of crisis support for:

Survivors of sexual assault (18 years and older);
Adult survivors of child sexual abuse;
Non-offending family members of these survivors.

A minimum of 5 individual counselling sessions booked per day (20 clients booked per week,) with the exception of when meetings, trainings, group counselling sessions, and other scheduled commitments may intervene;
Provision of group counselling sessions as program requires;
Maintain comprehensive records and files as outlined in the College of Alberta Psychologists Standards of Practice;
Assist in the provision of training for volunteers, students, professionals and lay persons in the area of crisis intervention and group facilitation as directed by the Director of Clinical Services;
Maintain and submit program statistics monthly in consultation with the Director of Clinical Services and the Director of Client Care Services;
Attend staff meetings, departmental group supervision, and staff in-services and remain ingrained on current literature and counselling methods, and where appropriate, adapt crisis intervention skills to reflect changes as determined by the Director of Clinical Services and the Chief Executive Officer (CEO);
Other appropriate duties as assigned by the CEO, the Director of Client Care Services, or the Director of Clinical Services.
Minimum required qualifications:
Masters level degree in counselling (e.g. MC, MSc, MEd, etc.), and either pursuing or intending to pursue a professional designation such as CCC or Registered Psychologist;
Experience providing crisis intervention and counselling for adults;
Knowledge and understanding of the assessment and treatment issues surrounding the effects of sexual violence.
The Ideal Candidate:
Has a client-centered approach.
Works with a trauma-centered perspective.
Has experience providing counselling, and working directly with people affected by sexual violence.
Has an awareness of the impacts of sexual violence and how this impacts all aspects of a person's life, as well as their coping behaviours.
Is able to work and develop relationships with a wide range of people, both within and outside of the organization.
Is comfortable working collaboratively with other staff and organizations.
Has excellent self-care practices.
Interested candidates are asked to submit a cover letter outlining why you think you are the right candidate for this position, along with a resume and three professional references. Resumes submitted without a cover letter will not be considered.
To Apply: Please send resume and cover letter to info@sace.ca, Attn: Selection Committee – Adult Counsellor.
We strive to build a team that reflects the diversity of the community we work in and encourage applications from traditionally underrepresented groups such as women, members of racialized or visible minority communities, Indigenous peoples, people identifying as 2SLGBTQI+, and people with disabilities. If we can make this easier through accommodation in the recruitment process, please contact us at info@sace.ca or call our office and ask to speak with Mary Jane.
We thank all who apply; only those selected to be interviewed will be contacted.