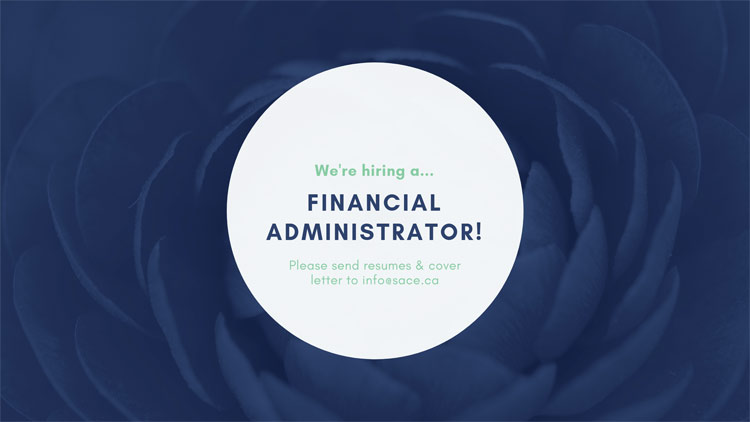 Financial Administrator
Thank you for your interest. This position is now closed.
This position is a full-time, contract position under the supervision of, and reporting to, the Executive Director of the Sexual Assault Centre of Edmonton (SACE). Responsibilities will at times include communicating and working with the Treasurer of the SACE Board of Directors.
Responsibilities of this position include management of SACE day-to-day bookkeeping and accounting processes, as well as year-end reporting and audit preparations, and preparation and maintenance of budgets. All work performed must be in accordance with generally accepted accounting principles (GAAP) and be done through the designated SACE-owned accounting software (currently Sage 50 Premium Accounting Canadian Edition), to which the Executive Director will have access at all times.
All work at SACE will reflect the Mission Statement and philosophical beliefs of the organization. SACE is a not-for-profit, charitable organization that supports children, adolescents, and adults who have experienced sexual abuse or assault, and educates the public about sexual violence. We offer a friendly and warm work environment and are looking for someone in this position to work weekly Monday to Thursday. Flexibility to work evenings and weekends is a requirement.
Responsibilities Include:
Recording all revenues, including, but not limited to: funding sources, fundraising events, honorariums, workshop fees, EFTs, and counselling services rendered;
Preparing accounts payable files, processing cheques for signing and distribution, and performing monthly bank reconciliations;
Preparing and uploading staff payroll files for electronic processing;
Maintaining records of TD1s and other information related to taxable income and deductions;
Preparing and processing annual T4 summary and T4s, as well as records of employment and remittances for the CRA as required;
Preparing all necessary annual returns for WCB, Federal and Provincial Governments;
Supporting the Executive Director and the Board Treasurer in the development and analysis of the annual SACE budget;
Supporting the Executive Director in the development and analysis of program funding budgets;
Preparing standard monthly and quarterly financial reports;
Preparing year-end audit information and documentation when required;
Other appropriate duties as assigned or requested by the Executive Director. Minimum Required Qualifications:
Experience working with not-for-profits, experience with the SAGE Software Accounting System, as well as possessing a Certified Accounting Designation, are heavily-weighted assets for this position.
The Ideal Candidate:
Is familiar with the issue of sexualized violence and with feminist approaches to support and violence prevention;
Is familiar with anti-oppression principles and practices;
Is able to work with and develop relationships with a wide range of people, both within and outside of the organization, in collaborative, consultative, and/or support capacities;
Is a motivated individual with excellent project and time management skills.
Interested candidates are asked to submit a cover letter outlining why you think you are the right candidate for this position, along with a resume and 3 professional references. Resumes submitted without a cover letter will not be considered.
SACE is committed to hiring practices that support diversity, equity and inclusion. All qualified candidates are encouraged to apply. We encourage First Nations, Métis and Inuit persons; members of visible minority groups; persons with disabilities; persons of any sexual orientation or gender identity and expression; and all those who may contribute to a diversity of ideas and practice at the Sexual Assault Centre of Edmonton, to apply.
To Apply: Please send resume and cover letter to info@sace.ca OR mail to SACE, Attn: Selection Committee – Financial Administrator
We thank all who apply; only those selected to be interviewed will be contacted.