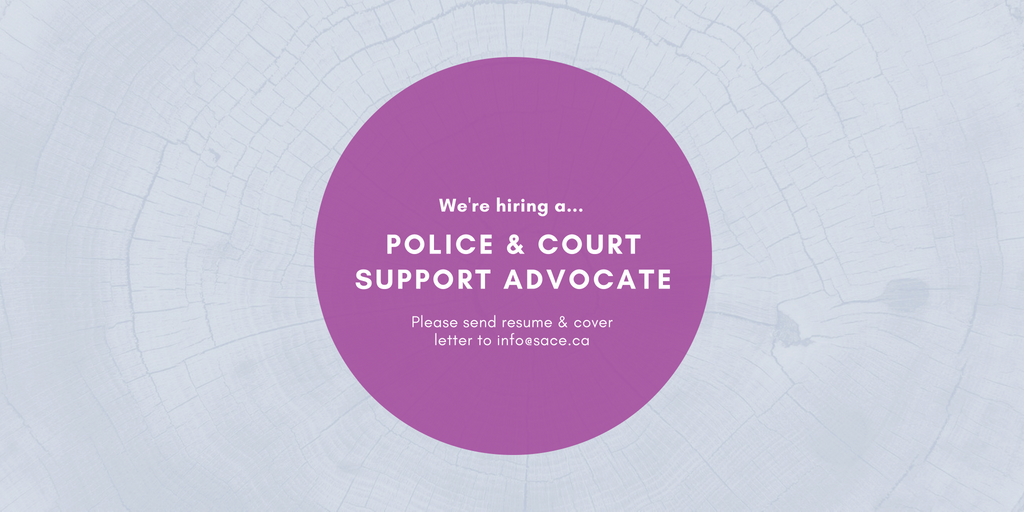 Police and Court Support Advocate, Clinical Services
Thank you for your interest. This position is now closed.
This is a full-time, two-year contract position, under the supervision of the Director of Clinical Services in the Police and Court Support Program. The Police and Court Support Advocate (PACSA) provides specialized information, education, and support to past or recent survivors of sexual assault and their families.
All work at the Sexual Assault Centre of Edmonton (SACE) will reflect the Mission Statement and philosophical beliefs of the organization. The Sexual Assault Centre of Edmonton (SACE) is a not-for-profit, charitable organization that supports children, adolescents, and adults who have experienced sexual abuse or assault, and educates the public about sexual violence. We offer a friendly and warm work environment and are looking for someone in this position to work weekly Monday – Thursday. Flexibility to work evenings and weekends is a requirement.
Responsibilities Include:
Providing information and support to individuals accessing the criminal justice system.
Providing crisis support, information, advocacy, referrals, court preparation and accompaniment, and case management including intake and informal assessments.
Program development and building new relationships to work collaboratively with professionals from other disciplines, such as the Edmonton Police Service, Crown Prosecutor, and Victim Services.
Minimum Required Qualifications:
A degree in humanities, social and human services, or criminal justice is preferred, but equivalent experience will be considered.
2 to 3 years of related work experience in crisis intervention and support.
Ability to work with the effects of sexual violence on individuals and communities.
The ability to work and build relationships with various community and professional services.
The Ideal Candidate:
Is familiar with the issue of sexualized violence and with feminist approaches to support and violence prevention.
Is familiar with anti-oppression principles and practices.
Is able to work with and develop relationships with a wide range of people, both within and outside of the organization, in collaborative, consultative, and/or support capacities.
Is a motivated individual with excellent project and time management skills.
An understanding of the criminal justice system and experience in database management and program evaluation is an asset.
Interested candidates are asked to submit a cover letter outlining why you think you are the right candidate for this position, along with a resume and 3 professional references. Resumes submitted without a cover letter will not be considered.
SACE is committed to hiring practices that support diversity, equity and inclusion. All qualified candidates are encouraged to apply. We encourage First Nations, Métis and Inuit persons; members of visible minority groups; persons with disabilities; persons of any sexual orientation or gender identity and expression; and all those who may contribute to a diversity of ideas and practice at the Sexual Assault Centre of Edmonton, to apply.
Closing Date: August 15, 2018. Interviews will be held the week of August 27, 2018.
Negotiable Position Start Date: September 24, 2018
To Apply: Please send resume and cover letter to info@sace.ca OR mail to SACE, Attn: Selection Committee – Police and Court Support Advocate
We thank all who apply; only those selected to be interviewed will be contacted.