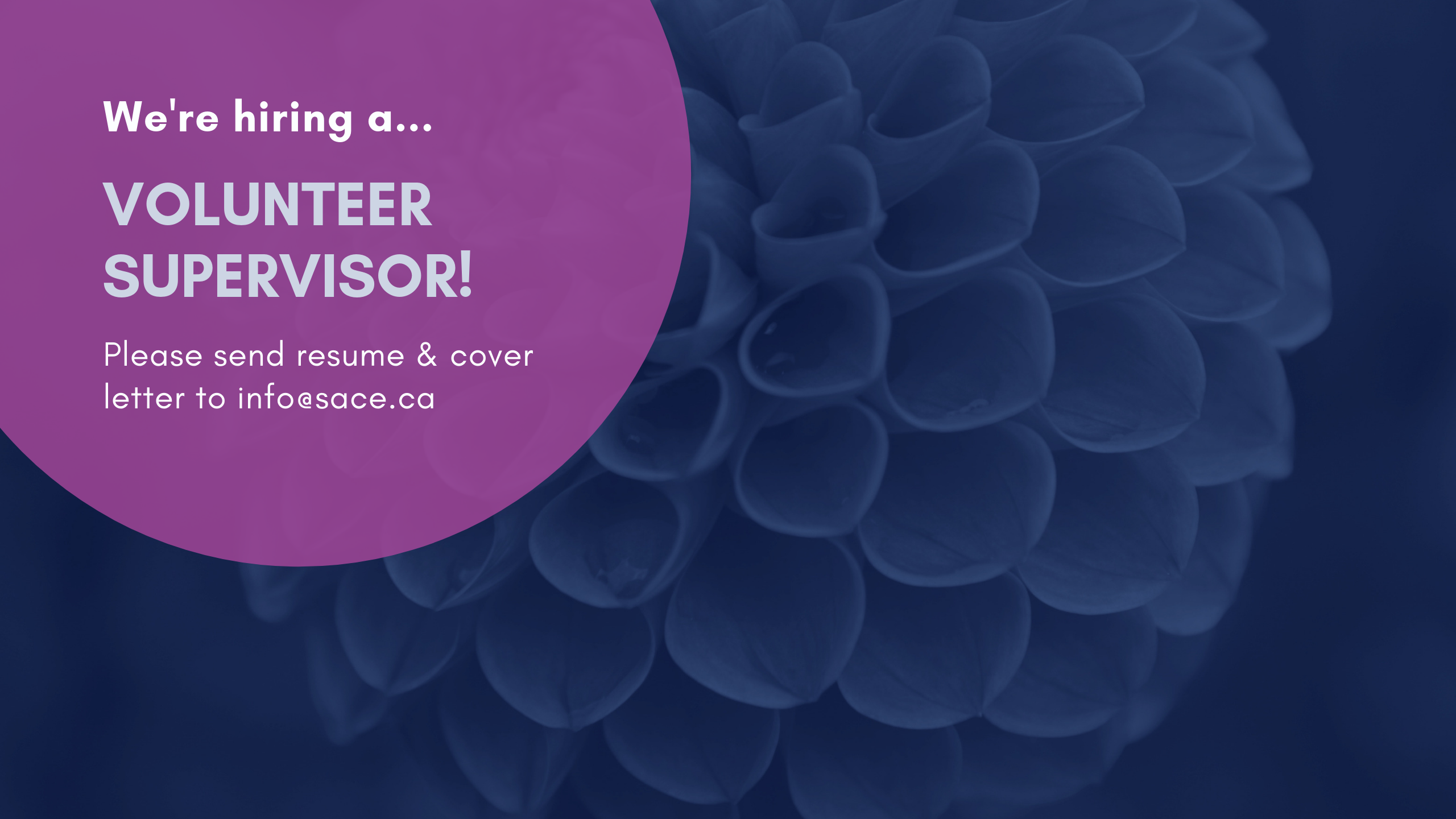 Thank you for your interest. This position has been filled.
The Volunteer Supervisor, Community Engagement, is a full-time one-year term position under the supervision of Volunteer Services and Support and Information Line Manager and the Director of Community Engagement.
All work at the Sexual Assault Centre of Edmonton (SACE) will reflect the Mission Statement and philosophical beliefs of the organization. The Sexual Assault Centre of Edmonton (SACE) is a not-for-profit, charitable organization that supports children, adolescents, and adults who have experienced sexual abuse or assault, and educates the public about sexual violence. We offer a friendly and warm work environment, and are looking for someone to work Monday – Thursday. Flexibility to work evenings and weekends is a requirement.
The Volunteer Supervisor is full-time position responsible for the day-to-day operations of the Volunteer Program, as well as supporting the 24-Hour Support and Information Line (SIL) at SACE and Alberta's One Line for Sexual Violence (One Line).
Responsibilities:
Recruit, screen, train and supervise volunteers for all volunteer positions;
Coordinate and facilitate training for volunteers on the SIL and the One Line, which includes:

Facilitating training sessions;
Coordinating with SACE staff and other organizations to facilitate sessions;
Supervising and providing feedback on role play scenarios;
Evaluation of volunteers' suitability to transition onto the phone, text and chat.

Volunteer recognition through informal and formal avenues (e.g. birthday cards, thank you cards);
Maintain volunteer files, including accurate record-keeping and reference letters;
Promote volunteer relations and engagement by:

Using creative communication tools;
Facilitating monthly volunteer meetings;
Organizing volunteer social events (minimum of two per year) as well as supporting volunteer-led social initiatives;
Celebrating volunteer achievements;
Creating and facilitating annual volunteer feedback evaluations.

Support volunteers and the SIL and One Line:

Oversee volunteer scheduling, monitoring coverage of the lines;
Provide ongoing supervision of volunteers;
Being available to debrief with volunteers.

Monitor volunteer retention, including doing exit interviews as necessary;
Recruit and train volunteers for various fundraising and special events, including SACE information booths in the community;
Collaborate on the writing of various funding and program reports, including the Solicitor General and SACE Board reports;
Collaborate on the evaluation and revision of volunteer policies;
Sit on the Provincial One Line Project Advisory and Project Operations committees for the One Line;
Assist with the implementation of a new volunteer management software system;
Participate in various fundraising initiatives for SACE including bingos and casinos;
Other duties as required.
Qualifications:
Undergraduate degree is preferred, although experience will be considered;
Strong interpersonal and communication skills;
Experience in public speaking, event planning, project management, Microsoft Office, Outlook, and databases;
Completion of SACE Support and Information Line or other similar training is considered a strong asset.
The ideal candidate:
Is familiar with the issue of sexualized violence and with intersectional approaches to support and violence prevention;
Is familiar with anti-oppression principles and practices;
Is able to work with and develop relationships with a wide range of people, both within and outside of the organization, in collaborative, consultative, and/or support capacities;
Is comfortable with public speaking and communicates effectively in both written and verbal form;
Is creative and innovative in developing new and unique ways to improve the volunteer program and engagement;
Is adaptable and open to change within the position;
Is highly organized and detail-oriented.
Interested candidates are asked to submit a cover letter outlining why you think you are the right candidate for this position, with a resume and three professional references. Resumes submitted without a cover letter will not be considered.
SACE is committed to hiring practices that support diversity, equity and inclusions. All qualified candidates are encouraged to apply. We encourage First Nations, Métis and Inuit persons; members of visible minority groups; persons with disabilities; person of any sexual orientation or gender identity and expression; and all those who may contribute to a diversity of ideas and practice at the Sexual Assault Centre of Edmonton, to apply.
First consideration will go to applicants who have direct experience supporting those impacted by sexual violence, especially those who are familiar with the SACE Volunteer Training Program, or a comparable program.
Closing Date: April 16, 2019
Position Start Date: May 6, 2019
To Apply: Please send resume and cover letter to
Attn: Selection Committee – Volunteer Supervisor
info@sace.ca  OR
#205, 14964 121A Avenue,
Edmonton, AB  T5V 1A3
We thank all who apply; only those selected to be interviewed will be contacted.