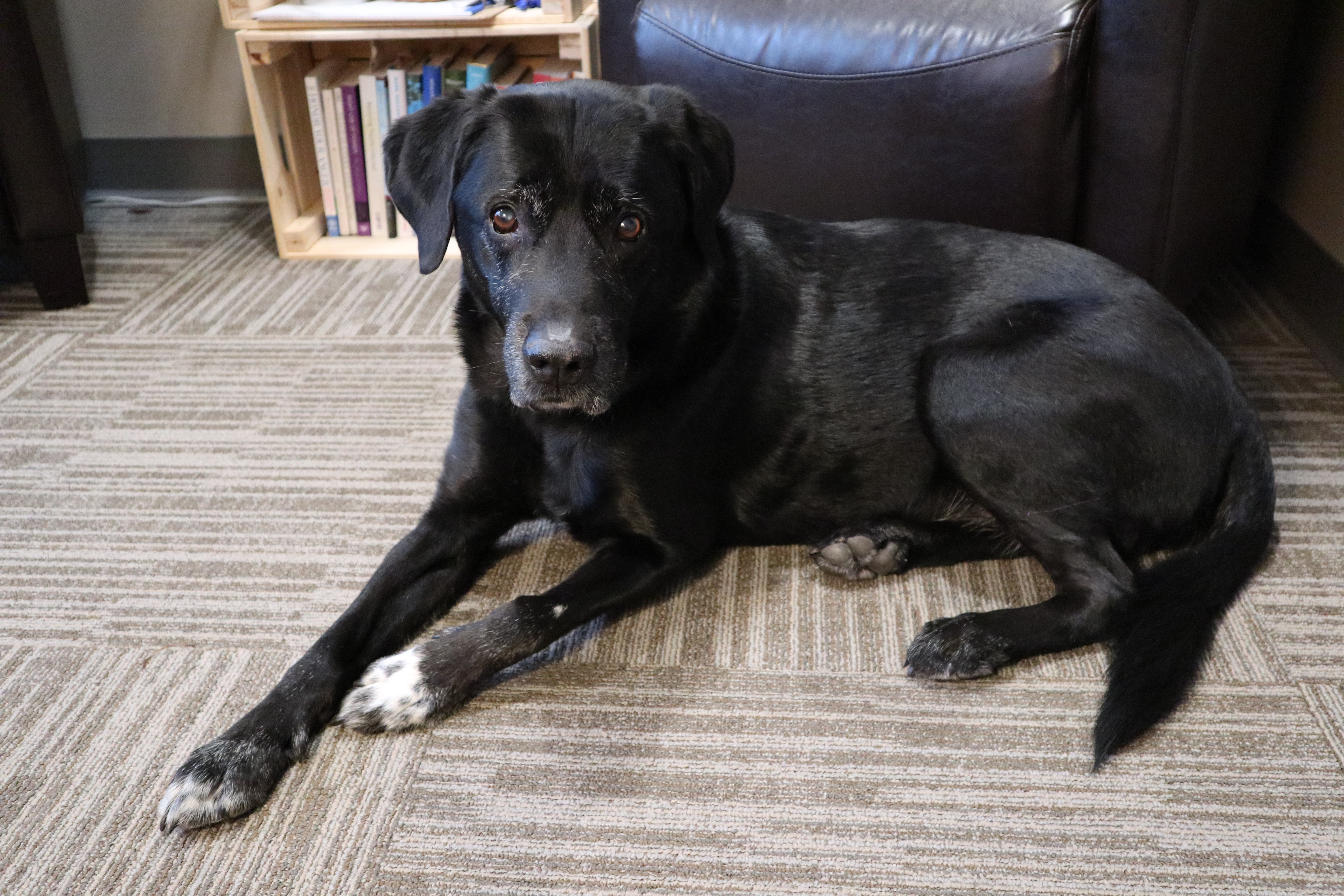 Meet Nanuq, the Sexual Assault Centre of Edmonton's newest (and furriest!) team member.
Laura joined the SACE team as a Counsellor in this past summer, and her beloved pet and certified Therapy Dog, Nanuq, joined shortly afterwards. Right now, Nanuq is in the office one day each working week and with such high demand it is being organized to have her in the office for an additional day. SACE has been considering adding a Facility Dog to our team as well to be a supportive presence to staff and clients, and having Nanuq in the office serves as a motivator and reminder of why Therapy Dogs are so important and appreciated.
I sat down with Laura to chat about her professional background and experience with Nanuq in the counselling capacity. Sitting in Laura's office I face a beautiful painting done by one of her friends of Tin Can Hill in Yellowknife with a dog (Nanuq) in the frame. She mentioned to me that it is a painting representing her Calm Place, an exercise often used in EMDR counselling. 
E: Can you tell me a little bit about your professional experience/your journey to becoming a psychologist?
L: I started my journey to become a counsellor because of Nanuq. I was volunteering in 2010 at the Young Offenders Facility in Yellowknife with Nanuq and noticed that she knows how to do something that I do not, as the kids would start to open up with her around. I wanted to go to school to be as good as my dog.
E: How did Nanuq come into your life?
L: My partner at the time had an auntie whose dog had puppies and we met them when they were two days old. Their eyes and ears were still closed. I picked up Nanuq and looked at her with her white paw and knew it was my dog. At this time I was actually doing my Masters in Philosophy.
E: Tell me a little bit about Nanuq's personality.
L: She is super friendly, she loves people. When we are walking and she decides some people need pets she stops in front of them and nudges them as they walk by. Nanuq is gentle, smart, and perceptive. She can tell how people are feeling and can be really grounding. She is also timely and keeps my appointments on schedule by rustling around at the hour mark.
E: What are some of Nanuq's favorite snacks?
L: EVERYTHING. Toast. Chips. Carrots. Pizza Crust. Anything crunchy.
E: What are some of your favorite activities to do together?
L: She really likes to go to work. Nanuq is a bit older now, but she really enjoys hiking, being with us while we paddle, and she also likes to sit on all of our ropes when we go climbing. She likes the outdoors but prefers to be passed out on the couch. Nanuq also likes car rides, sitting in the passenger seat and leaning with the turns. She likes that a lot.
E: When did you decide to get her certified as a Therapy Dog?
L: Before I even had her and I learned about the St.John's Ambulance literacy program.  After she was trained, we volunteered and children would read to Nanuq and show her the pictures in the book. It was adorable. I also met Nanuq's parents and they were both also relaxed and lovely like her.
E: How was the journey of getting her trained? Was she always well-behaved?
L: Well, she failed her first test. I think she was too young; she was right around one year old. She put her paws on the table because there were snacks. Have I mentioned she loves food? She has been certified for nine years now. I have been a counsellor since 2012 and Nanuq started working with me in that capacity in 2014. We volunteered together for four years before having her work alongside me in the counselling capacity. Now, Nanuq has seen hundreds of clients. Her virtue is that she will do anything for food. Her vice is that she will do anything for food. It makes her easy to train at least. A lot of it is her temperament. She is relaxed and loves people. You can train a dog really well but you cannot change if it is a naturally anxious dog. You want to set dogs up for success because all dogs really just want to do a good job.
E: What do you perceive to be the benefits of having her in counselling sessions with you?
L: Firstly, she is cute. But really, she is grounding. I can also use her to demonstrate relaxation skills such as diaphragmatic breathing and rate of breathing. She can show clients how it looks to take deep belly breaths and we can breathe alongside her as she is laying down because her resting rate of breathing is not much different than a human's! Nanuq is also very good comic relief, she snores sometimes. She notices slight changes in feelings and comforts clients by asking to be pet. She makes people comfortable automatically because it is something else to focus on. People can self-regulate by focusing on her. I also find that she is really good at teaching boundaries and communication. It can help clients practice this because sometimes they have to set boundaries with her and say things like "No, you can't have my lunch." With a dog you have to use direct communication which is not too passive or aggressive. It is a helpful practice.
E: How have your clients been enjoying Nanuq?
L: They are super pleased to see her and prefer when she is there.
E: SACE is considering adding a Facility Dog to the team to be a welcoming presence to staff, clients, and support people. What do you think the benefits of a Facility Dog will be for SACE in the future?
L: I think a Facility Dog will be calming and comforting to clients and staff. I noticed that Nanuq tends to be a really helpful presence for the staff here. People like to borrow her and are always willing to help when she needs to go outside. I think that a dog in this setting helps make people happy and offers some stress relief.
E: What would you like to see from a Facility Dog in the office?
L: A dog that won't steal your lunch, (laughter) but seriously, a dog that is happy to come to work.
E: Is there anything Nanuq would like to add?
L: She would say, thanks for the treats and the pets. She would also like you to know that she is multi-talented and knows a crazy amount of tricks. If someone sneezes she brings them a box of Kleenex, even if we are somewhere she has never been before. Nanuq can also play hide-and-seek: I cover her eyes and count while people hide.
E: Is there anything you would like to add?
L: Nanuq makes my world better. I wanted a job where I can give back to my dog. She changed my life and I want to share that with people and be the kind of person that my dog thinks I am.
Interview by Erica, Office Administrator and part of the Communications and Development team at the Sexual Assault Centre of Edmonton.