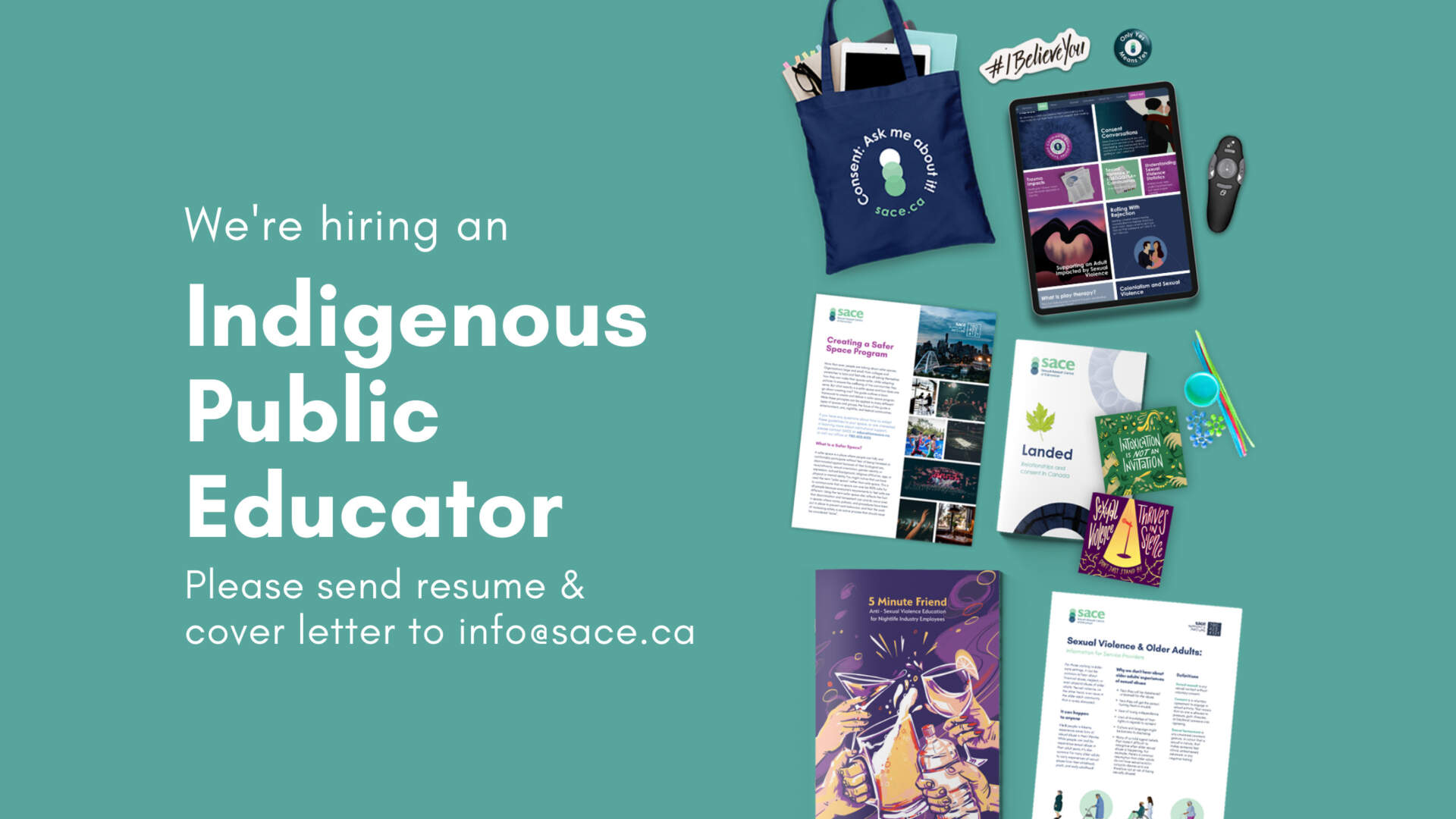 We're hiring an Indigenous Public Educator to join our Public Education team!
The Sexual Assault Centre of Edmonton (SACE) is a not-for-profit, charitable organization that supports children, youth, and adults who have experienced sexual abuse or assault, and educates the public about sexual violence. All work at the SACE will reflect the mission statement and philosophical beliefs of the organization.
This is a full-time position under the supervision of the Public Education Team Lead, and reports to the Director of Community Engagement and Chief Executive Officer. We offer a friendly and warm work environment and we are looking for someone in this position to work weekly Monday to Thursday. Flexibility to work weekday evenings and weekends is a requirement.
Responsibilities of the Indigenous Public Educator include:
Facilitating presentations and online courses on sexual violence, consent, and other related topics to Indigenous audiences, including Indigenous youth, professionals at Indigenous-serving organizations, and members of Indigenous nations/communities;
Facilitating presentations and online courses on sexual violence, consent, and other related topics to non-Indigenous audiences;
Researching and developing new presentations and educational materials on topics related to sexual violence, particularly related to Indigenous communities;
Staying up-to-date on new research and developments in the field of sexual violence prevention and facilitation, including online content;
Creating and distributing written and online materials regarding sexual violence;
Representing SACE at various committees, meetings, conferences, and public events;
Identifying and responding to community needs and emerging issues related to sexual violence;
Assisting in the development of plans for engaging respectfully with Indigenous communities and agencies;
Supporting SACE staff and collaborating with internal inclusion committees to create and sustain community-based culturally appropriate services and resources available to support Indigenous people who have experienced sexual violence;
Collaborating on the writing of various grant and funding applications and reports;
Providing crisis support and intervention to individuals affected by sexual violence, primarily through the SACE Support and Information Line as well as Alberta's One-Line for Sexual Violence;
Participating in various fundraising initiatives for SACE, including bingos and casinos;
Completing administrative tasks as directed by the Public Education Team Lead;
Other duties as required.
Minimum required qualifications: 
Experience working with First Nations, Métis and/or Inuit communities;
Extensive knowledge of intergenerational trauma, settler colonialism, and systemic oppression;
Strong interpersonal and communication skills;
Experience in education and public speaking is an asset;
Ability to work collaboratively with community service providers, non-profit agencies, and other organizations;
Ability to maintain a very high degree of confidentiality;
Strong computer skills with experience using word processing software;
Willing to work flexible hours and travel with minimal notice;
Reliable vehicle and driver's license;
Post-secondary degree or diploma considered an asset.
The ideal candidate: 
Has lived experience as a member of an Indigenous community, with cultural knowledge on Indigenous ceremonies, practices, and ways of healing;

Is passionate about preventing sexual violence through the provision of non-victim blaming education;

Is skilled at building rapport with Indigenous communities;

Is comfortable with public speaking in front of large and small audiences; 

Is comfortable facilitating education sessions both in-person and virtually;

Is comfortable and familiar using online platforms to facilitate virtual meetings and presentations;

Communicates effectively in both written and verbal form; 

Is team oriented and able to work and develop relationships with a wide range of people, both within and outside of the organization; 

Is highly adaptable; 

Thinks creatively about projects and assignments; 

Is highly organized and detail-oriented; 

Is familiar with intersectional approaches to support and violence prevention.
What SACE offers: 
A competitive salary commensurate with experience;

 

Full health benefits paid by SACE (extended health, vision, dental, and drugs) for staff and dependents;

 

A four-day work week, Mondays through Thursdays, and closed every Friday;

 

Generous paid vacation time (starting with three weeks);

 

Additional two-weeks' paid annual office closure over the winter holiday break, usually aligning with school district closures;

 

Currently offers a hybrid home/office work model;

 

A work culture that values collaboration, respect, and kindness;

 

Strong focus on staff wellness and work-life balance;

 

Generous staff professional development hours and budget;

 

Staff appreciation days;

 

Mileage reimbursement for community work;

 

Open door policy.

 
Interested candidates are asked to submit a cover letter outlining why they think they are the right candidate for this position, with a resume, and three (3) professional references. Resumes submitted without a cover letter will not be considered. Interested candidates are also encouraged to identify if they are Indigenous in their cover letter.
We strive to build a team that reflects the diversity of the community we work in and encourage applications from traditionally underrepresented groups such as women, members of Black, racialized or visible minority communities, Indigenous Peoples, people identifying as 2SLGBTQ+, and people with disabilities. If we can make this easier through accommodation in the recruitment process, please contact us at info@sace.ca.
Closing date: Thursday, March 23, 2023, or until a suitable candidate is found.
Phone interviews: Interviewees will be contacted by March 31 to complete a half-hour phone interview and book an interview time.
Interview dates: Week of April 3, most likely Tuesday and Thursday, April 4 and 6. Interviews are currently conducted via Zoom.
Offer of employment: The successful candidate will be informed by April 13.
Position start date: Monday, May 1, 2023
Support and Information Line training dates: The successful candidate will be required to attend the SACE Support and Information Line training in May and June 2023 on Tuesday and Thursday evenings, and some Saturdays. The staff will be compensated for these training hours with time off in lieu (TOIL).
To apply: Please send resume and cover letter to info@sace.ca, Attn: Selection Committee – Indigenous Public Educator.
We thank all who apply; only those selected to be interviewed will be contacted.