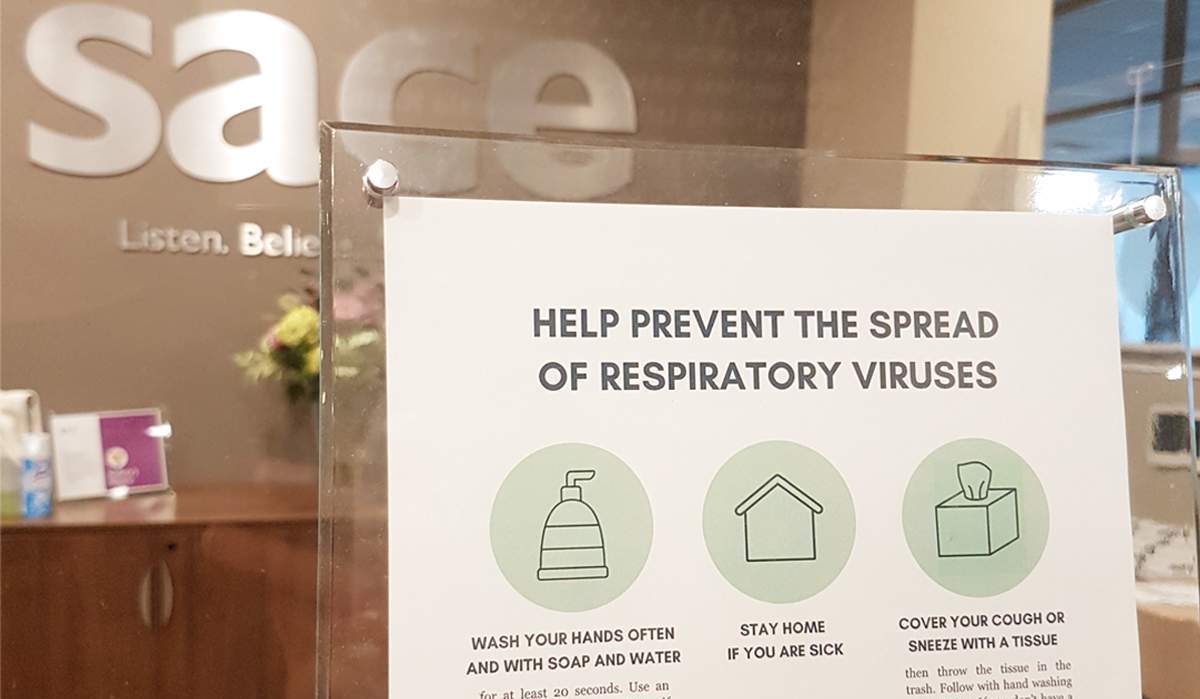 Updated September 2nd, 2020
Dear clients, volunteers, and community members,
SACE Services During COVID-19 continue to evolve, informed by the needs of our community. The SACE physical office is open for limited in-person services, and we are still offering digital services to people who have been impacted by sexual violence.
As of September 2020, some staff will be in office to deliver limited in-person services, on a rotating basis.
Our main office line is back in operation. You can still send an email to info@sace.ca and we will ensure that your correspondence is forwarded to the appropriate staff member, but you can also call our main line for enquiries. Please note, staff do not have regular access to voicemails at this time, so if you need to reach a staff member directly, it is still best to do this through email.
Our team is hard at work creating digital learning opportunities (such as a Digital Workbook for CALM 20 classes) and support resources. Follow our website and social media platforms for regular updates.
We are also working hard to get digital support group options up online.
The Counselling team is offering virtual sessions to clients who have access to technology and feel this is a good fit for them.
As of September 2020, in-person counselling services are available for children, and for adults who don't feel that phone or online counselling is a fit for them, or who have barriers to using technology. Please click the links for COVID-19 in-person services safety measures for adult counselling and for child and youth counselling.
We continue to complete intake appointments for new clients who would like to access counselling. To book an intake appointment, please email info@sace.ca or call 780.423.4102.
The SACE Support and Information Line continues to operate from 9 am to 9 pm daily at 780.423.4121. You can also chat with one of our trained volunteers on our website or call or text Alberta's One Line for Sexual Violence at 1.866.403.8000.
We'd like to express our sincerest gratitude to our community for your understanding, compassion, and support during this difficult time, and we look forward to the day when we can return to providing full in-person services.
Other support options include:
Central Alberta Sexual Assault Support Centre Crisis Line: call or text 1.866.956.1099 (24/7)
Alberta Council of Women's Shelters Line (to connect to your local shelter): 1.866.331.3933 (24/7)
Distress Line: 780.482-4357 (24/7)
Mental Health Help Line: 1.877.303.2642 (24/7)
Family Violence Info Line: 780.310-1818 (24/7)
Kids Help Phone: 1.800.668.6868 or text CONNECT to 686868 (24/7)
Children's Mental Health Crisis & Response Team: 780.427.4491 (visit their website for hours of operation)
Child Abuse Hotline (including reporting suspected child abuse): 1.800.387.KIDS (5437) (24/7)
LGBT Youthline: 1.800.268.9688 (2 – 7:30 pm MT Sunday-Friday)
Trans Lifeline: 1.877.330.6366 (24/7)
Indigenous Hope for Wellness Help Line: 1.855.242.3310 (24/7)
Islamic Family & Social Services Association Helpline: 780.900.2777 (10 am – 10 pm)
Nisa Homes (long-term shelters for Immigrant, Refugee and Muslim women): 1.888.456.8043
Information and referral to services: call 211 or visit www.ab.211.ca